Been a little while since I posted but, on a personal note, we had a death in the family last week, which has kept me and my husband occupied.  It was a close relative and someone that died far too young so it's been particularly difficult. Whenever something tragic like this happens it does remind me how short and precious life is and how we should not take any  day for granted.  Traveling is one thing that makes me remember that I am alive, I am lucky and I am connected to the world and other people in it.  I started this post over a week ago so I feel I need to complete it now.
Sometimes I want to travel to a big, energetic city like New York, London or Rome.  Other times, I just need peace and quiet and beautiful scenery and in that case, nothing fits the bill like a small or private island.  While I know there are many private islands located in the Maldives, Fiji or the Seychelles, I live in Texas, which means they are so far away and expensive to reach in terms of dollars and travel time that they are on my long term wish list…if I retire rich maybe.  It's hard to think about a 30 hour trip somewhere that involves 4+ connections without a sigh and thought of "can it really be worth all that trouble?"
However, there are many small, remote islands much closer to home (i.e., near the continental U.S) that can offer a similar experience and even a luxury experience of having your own private island but without 20+ hour flights from the U.S.  These would also be fairly easy to get to from mainland Europe as there are plenty of flights to the Caribbean, Canada and the U.S.
Peter Island Resort, British Virgin Islands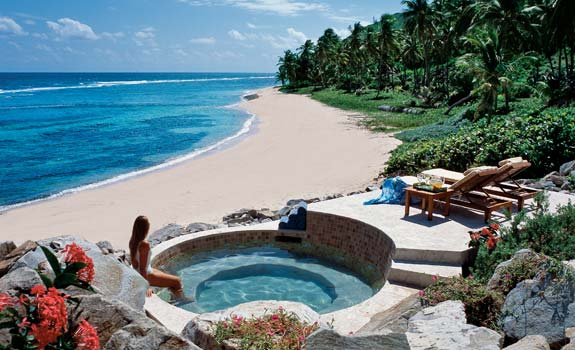 I have only seen Peter Island from a boat on several occasions but have not been lucky enough to set foot on its shores.  It's located in the middle of the British Virgin Islands and the only thing on the island is the Peter Island Resort.  Peter Island Resort is a boutique hotel that has only 32 ocean front rooms and 20 beachfront suites.  It has over 5 private beaches and 3 restaurants and an amazing spa.
Peter Island Resort also focuses on being environmentally conscious.  They have only developed 300 of the 1800 acres of the island so the majority of Peter Island has been left untouched.  They also use reverse osmosis water filters and windmill generators to reduce the hotel's carbon footprint.  Room rates range from $700 a night to $2,000 depending on room category and season but they also offer packages that can be more economical.  You can reach Peter Island by flying into Tortola (BVI) from Puerto Rico and then taking a short boat ride or you can fly into the larger airport on St. Thomas (USVI) and take a private boat straight to Peter Island or ferries from St. Thomas.
Palm Island, Grenadines
Palm Island is located near the larger islands of St. Lucia and St. Vincent.  This one is a little harder to reach from the U.S. but it can be done in a day.  You need to fly into either St. Lucia or Barbados and from there take a small plane to Union Island in the Grenadines.  From Union Island, youtake a boat to Palm Island.
Palm Island has only 43 rooms, many of which are free standing stone cottages with large patios overlooking the ocean.  Some of the villas even boast private infinity plunge pools and all have luxury feature and amenities. The small island is covered with over 2,000 coconut palms and has several pristine, private beaches.  The resort can arrange a sail or boat ride over to the Tobago Cays where they filed the first Pirates of the Caribbean movie or to Mopion Island for a picnic.  Rates for Palm Island vary from $745 to $2800 per night for 2 people, all inclusive, depending on room type and season.
Cayo Espanto Private Island Resort, Belize
Cayo Espanto is on my "near future" wish list due to proximity and appeal.  Steve and I have already been to Belize and we really loved it.  Belize is also only a 2.5 hour direct flight from Dallas – you can't beat that!! We stayed on Amergris Caye for 5 nights in 2012 over the New Year's holiday and the island of Ambergris (about a 15-20 minute flight from Belize City where the international airport is located) is laid back and fun with a long sandy beach and plenty to do, see and eat.  The small town of San Pedro reminded us of a fishing village in Mexico 20 or 30 years ago  – lots of street vendors, colorful buildings and lights strung across the streets and friendly locals.
However, we only stayed on Ambergris and it wasn't until a year later that I discovered Cayo Espanto while surfing around on the web.  It's only a short 7 minute boat ride from Ambergris but is truly its own luxury, private island paradise!  It has only 7 individual and private villas on it, each with its own private deck, beach and plunge pool.  You fill out your food preferences before you arrive and the award winning chef caters each meal to your individual likes and requests.  Each dinner is served on a private beach or is set up on your own private deck overlooking the water and sunset.  The staff can also arrange all variety of private luxury boat tours, fishing trips and snorkeling/diving excursions to the world's second largest barrier reef.  Price range from $1200 to $2500 per night depending on the villa and season but that includes all meals and drinks (including alcohol), transportation to/from the resort, your butler services and all non-motorized water activities.
Guana Island Resort, British Virgin Islands
I have snorkeled right off of Guana Island and been around it via boat but haven't stayed at the private island resort just yet.  Guana Island (the entire island) is privately owned and the owners have opened a small boutique hotel consisting of only 18 rooms/villas, which are mostly stand alone cottages. The island has 7 private beaches, 2 tennis courts, a full service spa and restaurant. You can lay on the beach, arrange to go boating, fishing or snorkeling or explore the island on foot.  It truly is your own luxury Treasure Island.  Unfortunately, I wasn't able to locate rates for Guana Island but I believe it is inline with Palm Island or Peter Island above and is all-inclusive.
Clayoquot Wilderness Resort, Vancouver Island
Okay, Vancouver Island isn't really a "private island" but this place is so remote that you need a seaplane to get there so it counts in my book.  "Glamping" has become a hot new thing and this resort near Tofino on the remote Pacific side of Vancouver Island takes it to a whole new level.  Not every private island experience near the U.S. has to be in the Caribbean!  Clayoquot Retreat has only 20 tents, 15 of which are large luxury tents with private ensuite bathrooms, opulent oriental rugs, heirloom china, wood stoves and king size beds.  For those that want slightly more "camp" in their glamp, they also have 5 "outpost" luxury tents with similar amenities that are further away in the woods or on the coastline and feature private toilets but a shared shower area.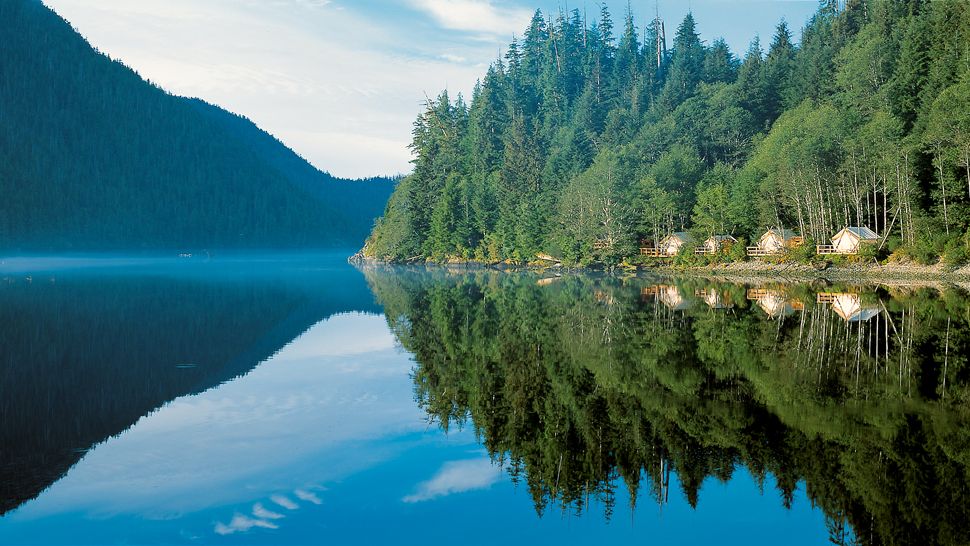 Steve and I visited Vancouver Island before and it is stunningly beautiful and there is so much to do.  You can go hiking in ancient temperate rain forests, ocean kayaking, whale watching, bear watching, zip lining, mountain biking, beachcombing, etc…  The resort also has a full service spa and gourmet restaurant that will arrange for private dinners on the patio of your luxury tent.  Rates are based on 3, 4 or 7 night stays and are all-inclusive (including most of the activities and your seaplane transfer) based on two adults and range from $4750 CAD for an outpost tent for 3 days to $6050 CAD for a luxury ensuite tent for 3 days.  Sounds pricey but that is Canadian dollars.  Right now $4750 CAD is about $3600 USD so that's about $1200 a day for two on a 3 day stay (even better if compared to the Euro).
Little Thatch Island, British Virgin Islands
I know – another island in the BVI??  Yes, I'm afraid so.  The BVI is so easy to get to from the U.S. and it has so many tiny islands and keys that it's such an obvious location for many private island resorts.  Little Thatch Island is super tiny though compared to Guana and Peter Islands.  To get here you fly into St. Thomas or Tortola and take a private water taxi to Little Thatch.
There is one cottage on the entire island that you can rent so you are assured complete privacy.  The cottage has all the amenities you could want, including A/C. There is service to make your room up daily and ice is provided every day for your drinks.  You give the owners a list of your grocery and drink requests and they make sure the cottage is fully stocked with whatever you want.  If you don't feel like cooking, bars and restaurants are only a 5 minute boat ride away on Tortola.
There is nothing to do but chillax, swim and hang out on your island and watch the boats go by.  Of course, you can always arrange to go boating to visit the nearby island of Tortola or hire a private charter to go fishing or to see the Baths at Virgin Gorda or snorkel the Indians.  Rates for the cottage range from around $6500 to $8900 for 7 days depending on the season.
Inn at Cuckold's Lighthouse, Maine
Near Boothbay, Maine, you can stay in a restored lighthouse that was originally built in 1907.  You can rent either part of the lightkeeper's cottage on this private island  or  you can rent the entire island for yourself. Given the rugged nature of this island, it's not recommended for those with mobility issues and during storm season in the winter, you may not be able to get here if the seas are too rough. You can reach Boothbay easily by flying into Boston, MA or Portland, Maine and driving there along the coast.  From Boothbay, it's a short 15 minute boat ride in their private launch.  The inn is beautifully decorated in a nautical theme in keeping with its location and history.
The owners offer a full breakfast each morning, a light lunch and a 3 course dinner or traditional clambake for dinner each evening.  You can also arrange for the launch to take you into town at Boothbay for lunch or dinner as well.  Renting the entire island is only $1450 to $1750 a night but you can rent half the lightkeeper's cottage for about $500 per night.
Well, that's my list of private island hotels that I have on my radar for the next few years! I hope to visit some of these soon.