Steve and I finally visited the South Pacific earlier this year, spending a week in French Polynesia.  Despite the long flight in coach, we thoroughly enjoyed the vacation and it is definitely one of the most scenic and stunning spots in the world.  The beauty of Bora Bora didn't even seem real – it was as if every view was a screen saver or an "Islands" calendar shot.  There are still many other spots in the South Pacific that I would like to visit, including Fiji and the Cook Islands.  Below are a few hotels that I've either stayed at or have my eye on for a future trip.
St. Regis Hotel, Bora Bora
I was smitten with the St. Regis from day one of our four day stay here.  The St. Regis has the largest overwater bungalows on all of Bora Bora and it was like having our own house.  I really don't think the "room" could have been anymore comfortable or well laid out.  On top of it, the St. Regis has one of the best views of Mount Otemanu from their outer motu location.
We also found the food and amenities here to be fantastic (albeit expensive but that is par for the course everywhere on Bora Bora) and the property was huge.  Everyone used bikes to get around because the property was so large and even featured its own Lagoonarium for snorkeling.
Finally, my favorite was the incredible view and cocktails served at Lagoon Restaurant, which I think is a must visit even if you're staying at a different hotel on the island.  We stopped by here every evening for a drink and to watch the most incredible sunset.
Royal Davui Resort, Fiji
I have not been to Fiji yet but it's on my "eventually" list.  It's a loooong flight for us (about 13 hours from LAX) and after our Air Tahiti coach experience, we aren't too keen on repeating it on Air Fiji.  So, it will take some time to save up for business class to Fiji.  However, once we get there, the Royal Davui is currently my top choice for our stay.  I love private islands – it really gives you the feeling of being away from it all and given that I constantly feel like I am "on call" and connected, I really need that from time to time.
There are a few different categories of villas here but each one offers complete privacy and seclusion and many come with their own plunge pools.  Of course, the resort will cater to your every need, including spa treatments, water activities or just leaving you alone in peace.
Our next door neighbor visited Fiji several years ago (sadly, the resort he visited is now closed) but he said it was hands-down the clearest and most beautiful water he's ever seen with the best snorkeling.  He said it made the Caribbean look like a cess pool! Now, I'm sure he exaggerated a little bit but I'll have to see it for myself one day.
Sofitel Ia Orana Resort, Moorea
This is where we stayed for the first 3 days of our French Polynesia trip and we loved our beachfront bungalow.  The hotel does have overwater bungalows, which looked incredible and sat over a crystal clear lagoon with amazing snorkeling.  However, we opted to splurge on the OWB on Bora Bora and saved a little dough by taking a beach bungalow instead and we were thrilled with our choice.
The bungalow sat on a pristine beach with an unobstructed view of the lagoon and Tahiti in the distance.  There was plenty of snorkeling right off the beach – coral heads as big as volkswagon cars.  We ended up staying here for 3 days and never even explored more of Moorea (okay, we were jet lagged and tired so I got lazy but this hotel was so comfortable!).
Overall, we enjoyed the food and cocktails here as well and Moorea is a little less expensive that Bora Bora but isn't quite as rustic as some of the accommodations on other islands like Huahine if you don't want to rough it too much. Moorea is also a quick 20 minute ferry ride straight from the Tahiti airport so it's easy to get there when you land.
Pacific Resort, Aitutaki, Cook Islands
Now I'm really getting out there.  The Cook Islands are in the middle of nowhere in the Pacific and Aitutaki has one of the most beautiful and pristine lagoons I have ever seen photos of anywhere.  It looks even better than the lagoon at Bora Bora, in my opinion.
Not sure when I'll ever have the time to get here.  It requires a flight to Rarotonga and/or New Zealand and then a separate flight to Aitutaki.  I believe you also cross the international date line so you basically lose 2 days just getting here. However, if I ever make it to the Cook Islands, the Pacific Resort is where I would stay. The hotel is a collection of thatched roof bungalows sitting on beautiful beaches with views of the lagoon.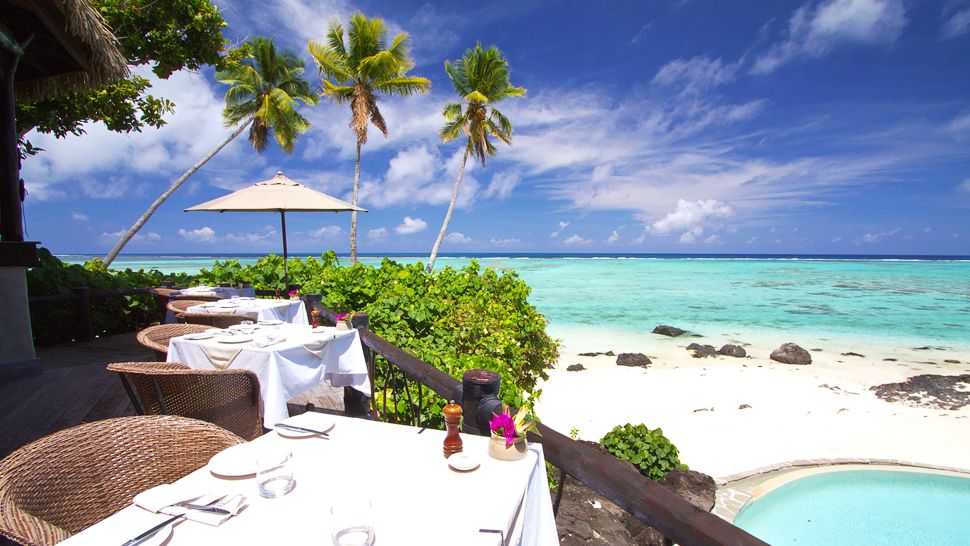 I would love to spend a week here forgetting about the rest of the world and snorkeling the pristine reefs.  Definitely a perfect tropical paradise – too bad it's so far away from Dallas, Texas.
Those are my top choices for a tropical stay in the South Pacific.  I've also heard wonderful things about Rarotonga and Vanuata but haven't had time to research any places to stay on those islands.  So many places to visit….