Steve and I are very excited to be spending a long weekend in New Orleans where we will be hanging out with some friends and catching the first weekend of Mardi Gras.  Living in Dallas, it's a quick and easy flight to The Big Easy so we have made this trip more times than I can count.  We have also tried a lot of restaurants, both casual and upscale, over the years and we have a few favorites that we go back to again and again so I though I would share.
Upscale Restaurants (more than $20 per entree; expect to spend over $100 for 2 for dinner)
Arnaud's Restaurant (French Quarter) – Arnaud's is very, very old school so if you like really modern cuisine in an industrial loft style space, this isn't for you.  Jackets are required at dinner time and shorts are never allowed.  You will find classic creole recipes on their menu, including oysters rockefeller, roasted duck and lots of seafood cooked in butter and sauces as well old fashioned desserts like bananas foster, cherries jubilee and crepes suzette.  The atmosphere is quiet and stately with huge crystal chandeliers and the original tiled floor – you really would have no idea that the debauchery of Bourbon Street is just outside. My favorite dishes are the souffled potatoes, Duck Ellen and the baked Oysters Bienville.
Commander's Palace – Another old school restaurant but with a more modern menu than Arnaud's.  The restaurant itself is huge with multiple dining rooms and a large courtyard patio if the weather is nice.  Jackets are required for men again at dinner time and most people dress up for dinner here though their brunch is a more casual affair.  The menu has a lot of references to traditional creole and cajun dishes but with modern flourishes.  I also love to visit their bar here before dinner – you have to walk through the kitchen to get to it, a la Goodfellas style, which is pretty interesting and it's a standing bar only but they make some killer cocktails.
GW Fins (French Quarter) – Located in the quarter, this restaurant is modern (and it is in a loft style space) with a strong emphasis on fresh seafood.  In fact, they have no idea exactly what their evening menu will be until they get their seafood delivery at 4pm that afternoon.  It's all based on whatever is fresh.  They do tend to have some dishes on every night from local seafood that's always available, including smoked sizzling oysters and their "scalibut" dish which is shaved scallops on top of halibut served on a lobster risotto – amazing. Also, their fluffy mini biscuits served as the bread course are to die for.
Nola (French Quarter) – This is an Emeril Lagasse restaurant and has been around for years.  Steve and I come back here for lunch on our first day in the city every time we visit.  We have reservations for lunch this coming trip, in fact.  I think we have tried almost every classic dish on the menu and I pretty much order the same thing for my entree every time now – the garlic crusted drum fish.  Their shrimp and grits here are also some of the best in the city and they make a killer crab cake.  The atmosphere is actually fairly casual and you can definitely wear jeans or shorts here but it's not exactly "cheap eats" so I included it in the upscale category.
Mr. B's Bistro (French Quarter) – This is our go-to place for Sunday jazz brunch.  It's a fun atmosphere at brunch with a live jazz band and balloons and festive decor everywhere.  They are best known for their BBQ Shrimp, which has more butter in it than should be legally allowed.  It's messy to eat (you get a bib) but it's worth the hassle to eat it.  They also make a great cajun pasta dish and excellent shrimp & grits.  Also, do not miss out on the duck spring rolls as an appetizer!
Casual Restaurants (less than $20 per entree; great lunch options)
Napoleon House (French Quarter) – this dilapidated looking building was actually built for Napoleon himself and was offered to him as a home when he was exiled.  Of course, he never made it to New Orleans but the house is still there and is now a restaurant and bar.  The bar is best known for inventing the Pimm's Cup, which is a delicious light drink made with Pimm's liquor, lemon soda and a cucumber slice.  Their menu actually doesn't wow me too much except for one thing – their muffaletta sandwich.  A lot of people go on and on about the muffaletta at Central Grocery but that one is served cold, deli-style and I like my muffaletta warmed so the bread gets a little crusty and the cheese melts.  Steve I come here and split a half-muff with a side of beans/rice and a few Pimm's Cups.  The opera music they play adds to the fun.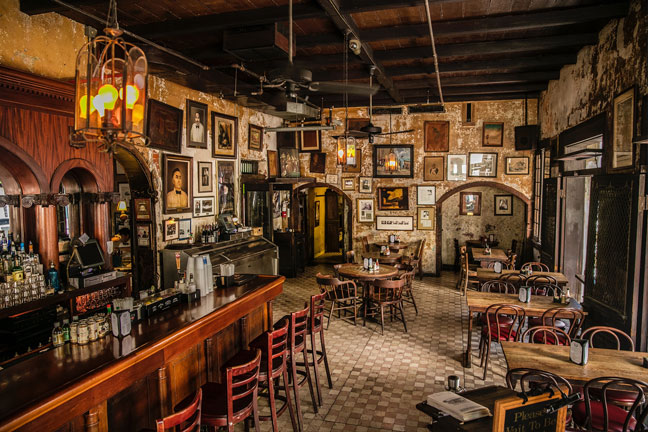 Felix's Oyster Bar (French Quarter) – You will see a massive line out the door at Acme Oyster House across the street.  I've eaten at Acme and I just don't get it.  It's fine if you like fried food and raw oysters but they have exact same food at Felix's and usually without the wait and, frankly, I think Felix's has better chargrilled oysters and better shrimp etouffe and red beans & rice than Acme.  Felix's also has a great standing bar if you just want a cold beer, raw oysters and a traditional shuck 'n jive – their oyster shuckers are hilarious.
Coop's Place (French Quarter) – The service here can be pretty surly and this place is a dive.  Seriously, don't go to the bathroom here if you can help it.  It's also communal seating, which I'm not a big fan of so you're probably wondering why I listed it on here. Their food is actually really good, especially their rabbit jambalaya and their gumbo.  They are known for having some great fried chicken but I have never tried it though I can say that it looks amazing.  They also make some mean cocktails here – be careful as they are strong!  Finally, it's super cheap.  You can eat here easily for less than $20 per person and walk out stuffed.
Mother's (Business District) – This is a cafeteria style restaurant where you line up, grab a tray and order along the line.  The line is usually out the door and around the corner but it moves fast – almost soup nazi style so be prepared to know what you want and order when you get inside.  This is down-home cooking and they are best known for their massive po-boy sandwiches, especially their roast beef sandwich which must be ordered "with debris" which means it has meat and juice drippings from the pan poured on it, kind of like a French dip sandwich.  I also think their jambalaya and red bean & rice here are amazing and the portion sizes are massive.
We will also be trying a few new places this year, including Lilette in the Garden District and we haven't made up our minds for our last meal on Monday (lunch) before flying home.  We may try Brennan's Restaurant or Domenica, which we haven't been to yet.  A few other places that we also haven't visited yet but would like to try include Coquette, Galatoire's and Restaurant August.  I don't like to bad mouth too many places but the only meals that I can say were underwhelming for us have been Bayona, the Gumbo Shoppe and Acme Oyster House (sorry – I know a lot of people love Acme but I found their food to be overly salted!).