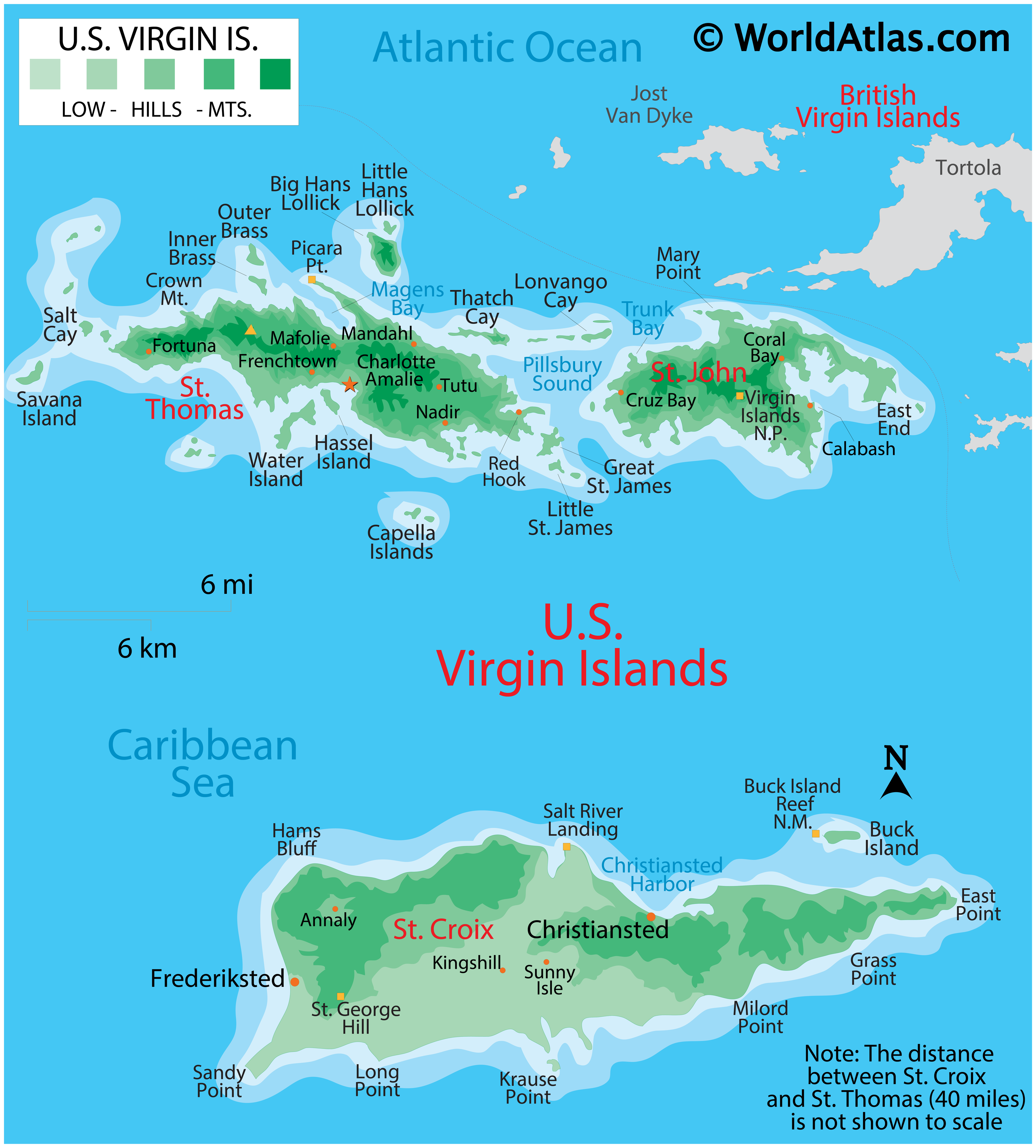 We arrived home last night after 8 nights on the island of St. John located in the U.S. Virgin Islands.  The Virgin Islands are located a little southeast of Puerto Rico and consist of St. Thomas, St. Croix and St. John.  The British Virgin Islands of Tortola, Virgin Gorda and Jost Van Dyke are also in the same area. Steve and I have previously visited all of the islands but decided to revisit St. John because we think it's the most beautiful of all of them.
We flew from Dallas to Miami for our connecting flight to St. Thomas.  Then a cab ride and a ferry to St. John.  The only way to reach St. John is by boat and it does not have a dock that can accommodate cruise ships so it tends to be quiet and peaceful there.  Before Hurricane Irma, there were two nice resorts on the island, Caneel Bay Resort and The Westin Resort, which both remain closed.  The Westin will be reopening in October 2018 and Caneel Bay is still negotiating its insurance and lease so it likely won't reopen until 2020.
So, given the limited hotel options on St. John, we rented a private villa just above the main town of Cruz Bay and we loved it!  We rented this villa, called Ginger Thomas, through VRBO and the set-up and location were perfect, it was in great shape, super clean, had A/C and the owners were very nice.  We had a huge private patio with a plunge pool, which we enjoyed every day. It's a one bedroom villa with a separate downstairs apartment (which we never used) so it would be great for two couples as you each have your own bed/bath and privacy but can hang out together at the large plunge pool patio too.
What is there to do on St. John?  Well, there is lots of hiking you can do all over the island as 75% of St. John is a National Park.  There is also the town of Cruz Bay which has many shops and restaurants.  You can go snorkeling in several areas and you can charter a boat to visit other islands.  My favorite part of St. John are its beaches. This is a beach lover's paradise. We have been all over the Caribbean and I think St. John has the best beaches by far.  Below are some of my favorites.
Hawksnest Beach.  This was our favorite because it still offered plenty of shade, had sugar soft sand, had a small reef you could also snorkel and had some basic facilities (i.e., a bathroom which wasn't the greatest but got the job done).  The water here was crystal clear as well – it was like swimming in a pool.
We also visited the island's most popular beach, Trunk Bay.  Trunk Bay is gorgeous and the water and sand are also perfect but it suffered more hurricane damage than Hawksnest and lost 99% of its gorgeous palm trees so there is very little shade on Trunk Bay.  You definitely need an umbrella or sunshade which is one more thing to carry to the beach each day.  It also can get a little windy on Trunk Bay as well.  Everyone stops at the overlook on the way to this beach for pictures and we were no exception – it IS a great view.
We then visited Maho Bay Beach.  You may have noticed how many great beaches are on such a small island, which is one reason we love St. John.  Unfortunately, Maho suffered the most damage of all from the hurricanes and much of the beach was washed out and there was literally no vegetation left.  People actually created makeshift shade shelters from debris which we used during our visit.  It was kind of sad to see the beach in this condition but the water was still beautiful. Maho has a turtle nesting area so turtles are frequently here but we didn't spot any.
The last beach we visited was a tiny little bay that you had to hike into (when I say "hike" I mean a 5 minute walk down a very short hill) that was also lovely.  Jumbie Bay Beach was just a slim little crescent beach that was so quiet and peaceful.
Most of our trip was spent getting up early and having coffee on the patio and reading the news on our ipads (wifi at our villa was screaming fast).  The villa owners provided us with all the beach accessories we needed, including towels, chairs, sun shade, cooler, etc…  We would load up the cooler with waters (and a few beers or a bottle of white wine) and head to one of the beaches.  We would usually spend 3-5 hours at the beach and then head back to the villa for a swim in our plunge pool and to relax with a few sundowners.  Sometimes we stayed in and ate leftovers or picked up some food to go (like pizza from the local pizza place) and some nights we showered up and went into town for dinner or a late lunch.  It was a great "no plans, let's just do whatever we feel up to" kind of vacation.
I will say that I couldn't get enough of the sunset views from our villa.  I really highly recommend renting Ginger Thomas if you visit St. John.  Also, the owners own the exact same villa layout just two houses down and that villa is called Ylang Ylang and has the same patio, pool and views.
We actually did do more than just sit on the beach all week.  We chartered a private boat and captain one day to take us over to the British Virgin Islands and we visited Jost Van Dyke for a full day, which was great.  Steve and I used to stay on Jost Van Dyke back in our younger days so it was nice to revisit but I took a lot of pictures so I'll write a separate post on that day trip.  Also, we visited many restaurants on St. John so that deserves a solo post just for the pictures of all my fruity rum drinks that I had.
Overall, we had a fantastic vacation.  The USVI, and St. John in particular, are wonderful islands with very friendly people.  Are they ready for visitors post-hurricane?  Yes.  I would say that the USVI is ready.  90% of the restaurants and shops on St. John have reopened.  Charlotte Amalie on St. Thomas looked the same as before for the most part. The Westin on St. John will be reopening very soon (we drove by and it was looking great).  The beaches are still incredible, the roads are in great shape and the hiking trails are all open.  Yes, you will still see some visible damage here and there and many houses still have blue tarps on their roofs but in many cases you would never know that two Cat 5 hurricanes tore through here just 7 months ago.  The recovery says a lot about the people that live here.
I will say that we drove to the other side of the island, Coral Bay, and the destruction was more pronounced there.  They are also using that area as a staging ground for removal of debris and the electrical lineman who are replacing all the wood utility poles with steel poles so it's basically a construction zone/dumping zone so you can imagine how that looks.  However, there was never much to do in Coral Bay anyway and the main beach areas and town of Cruz Bay look great.  Unfortunately, the BVI still has a long way to go.  Their infrastructure was already not as robust as the USVI and they haven't gotten much support from the government so rebuilding is slow going over there. However, if you're thinking of a visit to the USVI, just go!  It's absolutely worth it!
Next posts – day trip to Jost Van Dyke and Where to Eat on St. John….